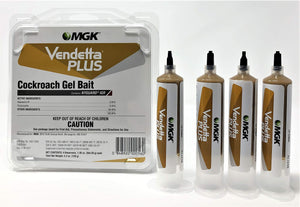 MGK Vendetta Plus Cockroach Gel Bait - 1 Box (4 X 30 Gr. Syringes)
Description
Vendetta Plus Cockroach Gel Bait is formulated to be highly attractive and effective, even on the toughest, hard-to-kill German cockroach populations..
Does not contain peanuts, shellfish, dairy, tree nuts, fish or wheat, Clean, odorless bait, Not runny in high heat, Vendetta Plus attracts bait averse and non-averse German cockroaches. Formulated with an insect growth regulator, NyGuard IGR, Vendetta Plus reduces German cockroach populations by reducing reproduction, Kills American, German and brown-banded cockroaches..
Active Ingredient: Abamectin B10.05%
Pyriproxyfen0.50%
Description: Vendetta Plus combines two modes-of-action to kill
GermanCockroaches where they hide and prevent future
reinfestation.
Target Pest: German roaches
For use in: Indoors in Food and Non-food Areas, such as:
Apartments
Homes
Hotels
Restaurants
Schools
Warehouses
In Transportation Equipment:
Ships
Aircraft
Trains
Buses
UPC# 848920000569
---
We Also Recommend
---