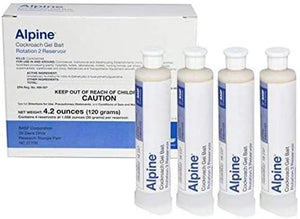 Alpine Cockroach Gel Bait Rotation 2 Reservoir - 1 Box(4 x 30 Gram Tubes)
Alpine Cockroach Gel Bait Rotations21 Reservoir contain the same active ingredient, dinotefuran, which has been granted Reduced Risk status for public health use by the EPA for both public health use and food handling establishments.
Its mode of action controls strains that are resistant to the active ingredients found in many sprays and baits. Fast kill with excellent secondary nymphal mortality, for optimal aversion management, rotate these formulations every six months and use the BASF cockroach solutions protocol, Dinotefuran, the no repellent active ingredient in Alpine insecticides, has been granted Reduced.
---
We Also Recommend
---