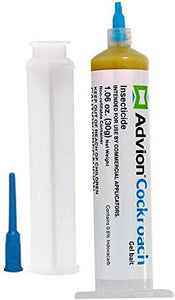 Advion Syngenta Cockroach Gel Bait 30 grams UAE
Advion Cockroaches Gel
 KEY FEATURES
>  Active Ingredient: Indoxacarb, 0.6%
>  Designed to control pest species of cockroaches such as German, American,
Australian,
>  Smoky-Brown, Brown, Asian, Oriental, and Brown-Banded
>  High-performing bait matrix
>  Can be used indoors and outdoors, for Commercial, residential & industrial use
> Complete spectrum pest control
Product Details
Getting an insect nibble can be a creepy experience, especially if you don't know what
small invertebrate animal left you with that red, throbbing welt on your skin.
Don't panic!!
Advion®Cockroach Happy to Provide you with unbeatable, professional results in
infestation elimination with new Advion Roach Bait Gel.
Advion Roach Bait Gel in UAE is powered by a unique, high-performing bait matrix that
targets even the toughest species of gel bait-averse roaches including German,
American, and Brown-Banded. Apply Advion Roach Bait Gel as a crack and crevice
treatment indoors and outdoors in commercial, residential, and industrial sites.
Advion®Cockroach Gel bait best price in UAE combines a highly attractive, proprietary
gel formulation with indoxacarb, a unique, non-repellent active ingredient that is bio-
activated by the cockroaches. It is a high-performing bait targeting all prevailing pest
species of cockroaches including German (also gel bait-averse), Oriental, American,
Australian, Brown, Smoky brown, Brown banded and Asian. Cockroaches cannot resist
this superior combination and even the toughest populations are quickly
controlled.Advion cockroach gel bait quickly controls the strong species of cockroaches
and hence the insects cannot resist the strength.
Benefits
It provides high-speed action and kills the cockroaches in a short time
The small nozzle at the end of the tube of Advion gel for cockroaches is useful to dispense the gel even in small holes where the eggs are present to kill the entire arena

Advion Cockroach Gel Bait 

allows the thorough cockroach infestation control
Potent non-repellent odorless ingredients easily attract the cockroaches towards it as they engulf the immediate reaction occur to kill them.
You can use cockroach Advion gel for two years.Being the best cockroach gel in UAE, It is helpful for both indoor and outdoor use.
You can easily place Syngenta Advion gel in the food handling areas as well.
---
We Also Recommend
---