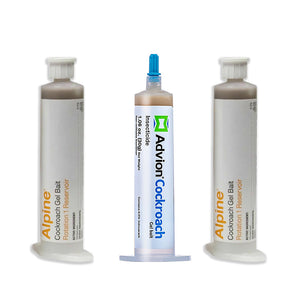 1 Pcs Advion Syngenta Cockroach Gel Bait 30 gm+2 Pcs Alpine Cockroach Gel Bait 30 gm
1 package: 3 tubes + 3 plungers + 2 tips Advion Syngenta Cockroach Gel Bait is a highly palatable gel bait that provides unmatched cockroach control. Powered by indoxacarb, which has a unique mode of action allowing for primary, secondary and tertiary control of cockroaches.With its non-repellent, toxic and potent active ingredients, you can kill not only German and American cockroaches but also the brown banded, Australian, oriental cockroaches. This Advion Syngenta gel bait kills not only nymphs and adults but also the eggs of cockroaches, You can use this product around your pets without any worries but be careful around the kids. Due to the unique formulation of this 1 Pcs Advion Syngenta Cockroach Gel Bait can kill cockroaches effectively for 2 years after opening.
To remove all the cockroaches you need to follow steps

Step 1 - Advion Gel

Step 2 - Alpine gel ( within 3 months you can use advion gel)
Features:-
Fast, thorough control of a wide spectrum of cockroaches
Product of choice in sensitive situations like schools, food handling establishments and hospitals
Consistent quality formulation
Ideal for use in commercial situations as the 3-phase control ensures more complete control
Active Ingredient: 0.6% Indoxacarb
Contents: 4 x 1.06 oz. syringes/box
Frequently Asked Questions:-
Q1.   Is this product reasonable in price or not?
Ans. As compared to other products, this Advion Syngenta Gel is available at reasonable prices.
Q2.   Is this item durable or not?
Ans. Yes, this Syngenta Advion product is highly durable.
Q3.  Does this Syngenta Advion anti-cockroach gel have an expiration date?
Ans. The manufacturers of this gel bait have not mentioned any expiration date on the package of this gel. But according to the experts, this cockroach gel is good enough for 5 years. Be sure to place this gel away from sunlight and in a dry place.
Q4.  After drying, does this gel work or not?
Ans. This Advion Cockroach killer takes almost 2 to 3 days for drying and gets hard after it. The gel still works best when it gets hard, but for peak performance, you should apply fresh spots of gel.
Q5. How this Advion Cockroach gel kills the cockroaches? Does it kill them only by contact or by ingestion?
Ans. Due to powerful chemical formulation, this product can work in both ways.

Q6.  What is the main ingredient of this product?
Ans. This Syngenta Advion Cockroach Gel Bait contains non-repellent and bioactive 0.5% of Indoxacarb that can effectively show its reaction on cockroaches even after first use.

Q7.  How much time should I use this Advion gel online?
Ans. According to the instructions, it is useful to apply this gel 2 to 3 times a week.

Q8.  In how much time, this Advion Cockroach Gel will attract the insects?
Ans. The shelf life of this product is 5 years, and you can enjoy the best results within 2 to 3 months.

Q9.  What is the reapplying method of this product?
Ans. For reapplying this Syngenta Advion Cockroach Gel, you should remove its first layer. And then reapply the fresh layer of this gel.
 same way for Alpine
---
We Also Recommend
---